now, I'd really like a story set in season 1 or 2. there are sooo many fics based in season 3 and it kinda gets boring. anyone have any suggestions?

it can be any length and any rating. also, I'd prefer the story to be on ff.net because it's easier to read on my phone, but if you've got a good one that isn't posted there, it's all good!

thank you and I hope some of you are able to help me! :)
it's been a very long time since I posted on here (and been on lj) and I've recently fallen back in love with Zutara.
capslock_zutara
? I had an A:TLA kick the other day and went back to it and it was gone :O I was devastated :((( Hope someone can shed some light on this.
Hey guys! Just had a quick question... does anyone know what happened to
Current Mood:

confused
Well I sure hope you are,
as there's this
prompt
that's been bugging me for some time, and I'm eager to share with you what little of it I could write down as who knows what if it can inspire you?
oh dear that's my plan all along
The scenario is all classical ATLA but with Katara having a 100% Elsa's personality, Elsa's worries, insecurities and inability to embrace her waterbending gift.
And of course, the unfortunate Sifu to teach our Katara|Elsa
letting it go
would be dear prince Zuko - through snark remarks at first, then - through fighting and finally - through forgiving and embracing
each other
their personalities.
---
If anyone can write a something (anything, actually) on this crossover, I totally would owe you an illustration for that one.
p.s.
Anticipating ZW-2014!!
Anyone alive here?
Current Music:

Idina Menzel obviously :)
Title:
Lex TalionisChapter 8 :
An annoying waterbender
Rating:
T
Words:
5,685
Summary:
Sometimes revenge isn't sweet, it can be downright cruel. AU Zutara.
Story link:
https://www.fanfiction.net/s/8421512/1/Lex-Talionis
Excerpt
:
The next morning, Katara walked into the room to find the food still there on the tray. She gritted her teeth as she mumbled under her breath. "Jerk."
She sighed wearily as she went to grab the tray. "Why do I even bother?"
Picking it up, she held it at her side and stuck her tongue out at his back. When she made to walk out of the room she heard his voice, nearly dropping the tray from shock.
"Hey, you!" he stated authoritatively.
"Would you stop being sneaky like that? You scared me half to death!" She said holding a hand to her chest.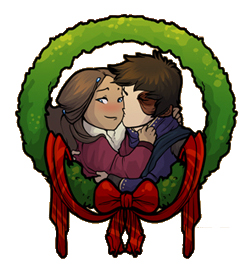 2013 MASTER-LIST
art
•
Forbidden Zutara
by
Sakizm
for
xoLadyXannaxo
•
Happy New Year
by
svyre
for
ArisaLo
•
Meadows of Heaven
by
jesterry
for
bother_kupo
•
Mistletoe

by
tenshiyaki
for
musicxxangel
•
Tea
by
ArisaLo
for
Sakizm
•
Zutara Joint Icons
by
Wolfprincess123
for
svyre
writing
•
A Berry Truthful Beginning
by
chic_bonaerense
for
supermangageek23
•
A Girl Worth Fighting For
by
psychedelic_aya
for
ChelsM3
•
Aang the Matchmaker
by
musicxxangel
for
kefiradalila
•
Healing Hands
by
CrazyLilBit
for
chic_bonaerense
•
Heat
by
PearLynn
for
HuskiBunni
•
Infinity
by
ChelsM3
for
psychedelic_aya
•
Leagues Away and Scattered by the Wind
by
sadladybug
for
jesterry
•
Lunar Leashed
by
kefiradalila
for
artemis_day
•
Matchmeddling
by
advocaat
for
lariren_shadow
•
Much Too Close
by
skylar0grace
for
PearLynn
•
Small Steps
by
artemis_day
for
skylar0grace
•
The Icewalker and the Ninja of Justice
by
chic_bonaerense
for
Sassycat2
•
The Labyrinth of Illusions
by
bother_kupo
for
advocaat
•
The Set Up
by
lariren_shadow
for
sadladybug
•
Winter Cuddles
by
supermangageek23
for
Wolfprincess123
•
Your Fault
by
HuskiBunni
for
CrazyLilBit
___
A

BIG

thanks to everyone who participated. We all pulled off some nice gifts. Cheers and congratulations!
___
♡
Special thanks to
chic_bonaerense and y
tenshiyaki for pinch-hitting. Thank you so much, darlings.
<3
My ginormous and ongoing RL issues are still leaving me with very little writing time, but I still manage to squeeze in a page or two here and there. So I'm pleased to announce that the next chapter of Sacrifices has finally been completed and posted! You can read it here at AO3:
http://archiveofourown.org/works/280947/chapters/2307943
Or here at FFnet:
https://www.fanfiction.net/s/6972691/12/Sacrifices
Judging by the few reviews I've already gotten for it, or rather what most of those reviews have been focused on, this chapter is a lot more controversial than I thought it would be in our current social climate. But still, I Regret Nothing.
.
kz_secret_santa
, please contact me here. Deadlines will be extended for the pinch-hitters, as well as thanks.
Pinch-hitters won't be contacted until after the New Year. :)
Anyone who'd like to fill in as pinch-hitters for the Zutara Secret Santa on
It's been several months since I've posted anything, due to Real Life this year being rather brutal for long stretches, and due to the stress and extra work involved in suddenly switching to solo parenting. But at least I've managed to produce the next chapter of Promises to Keep before Christmas!
Those who haven't lost interest in this story after several months without an update, can read Chapter 14: Tramps and Thieves here at FFnet: http://www.fanfiction.net/s/6817325/14/Promises-to-Keep

Or here at AO3: http://archiveofourown.org/works/225119/chapters/340692

Happy Holidays, and happy reading!
Title: The Sun Shines When I'm With YouAuthor:
aiedail4eva
Rating: T

Summary:
What if Zuko and Katara had a bit more interaction through the series? The story starts with The Chase, then jumps to the Crossroads of Destiny. A conversation may change the lives of the Team Avatar members. "Zuko frowned, 'Azula didn't put me in here as a trap. I'm as much of a prisoner as you are.' Katara thought about that, 'So,' she paused, 'we have a common enemy...'"
Zuko looked from Azula to Katara and Aang, trying to choose who to attack. Katara's eyes connected with his, and he could hear her words about Azula echo in his head, 'So, we have a common enemy.' Some of her other words seemed to blend with his uncle's, 'You may think your decision made you worse off, but I'm willing to bet that if you did it to help people, that it was the right choice.' What his uncle had just said was the last thing he thought of, 'Look into your heart and see what it is that you truly want.' Then his decision was made.
Title:
The Fifth Column
Chapter Title:
Change
Word Count:
9,450
Summary:
Katara watched the masked figure silently twirl the blade in his hand. The Fifth Column's greatest assassin had been sent there to kill her or break her, or maybe it was both. Either way, they wanted their answers; it was the reason she had been kidnapped in the first place ... or so she thought.
"But I can't let a tyrant sit on my throne!"

"Patience," Iroh said, placing a hand on his nephew's shoulder. "Tyranny cannot endure forever. By its very nature it rots everything it rules, including itself." He slipped his arms up his sleeves and shrugged. "But then that can take a lifetime, so you'll need to accelerate the process or stop it altogether."

"And how do you propose I do that?"

"Hey, that's what we're here for," Sokka said, tapping at his temple. "We're your think tank, buddy. We'll come up with a plan."

"Great."

"Don't worry, Zuko," Aang said, nudging a grumpy-faced Zuko in the ribs. "We'll find a way. We always do."